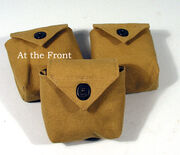 Rigger Pouches
were canvas pouches with pointed flaps and secured by blackened "lift-the-dot" snaps that were meant to be worn on the M1912 or M1936 Pistol Belt. These pouches were originally an issue item available through the US Army Air Force version of the US Army Ordnance catalog at the beginning of the war. However, the issued items were mostly copies sewn by the unit's parachute riggers (thus the name). Paratroopers called them "Air Corps" pouches.
It was used by American Army paratroopers so they could carry a light, customizable ammunition load. The standard-issue cartridge belts tended to unfasten during a drop and the standard-issue web-gear pouches were purpose-made rather than universal. They were not used much past the D-Day landings, as loose items had a tendency to fall out of them. After Operation Market Garden (September, 1944), regular ammo pouches or cartridge belts and bandoleers were used.
The HOLDER (Short), Clip, Rifle (Part No. 42B15006, Stock No. 8300-442575) could hold seven 5-round M1903 Springfield "stripper" clips, four 8-round M1 Garand Rifle "en bloc" clips, four 15-round M1 Carbine magazines, two 15-round M1 Carbine magazines and a 50-round box of .30 Carbine ammo, or a Mk.2 handgrenade. Riggers made a wider version with a rounded bottom for carrying two Mk.2 grenades. Some pouches had tie-down 550-paracord fasteners instead of "lift-the-dot" snaps because there was such a high demand for new pouches and a scarce amount of snaps. The Paratroopers' basic load was that those issued the M1 Garand carried four pouches and those issued the M1 Carbine carried two pouches. Usually one would be a grenade pouch.
The HOLDER (Long), Clip, Sub-Machine Gun (Part No. 42B15007, Stock No. 8300-442590) could hold four 20-round magazines for the Thompson sub-machine-gun. It was soon replaced by the 5-cell Thompson magazine carrier after the Sicily campaign (July-August, 1943). The Paratroopers' basic load was either two long pouches or one long pouch for spare magazines and a short pouch for carrying one or two grenades.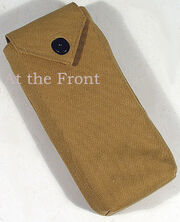 The Army Air Force Class 13 (Clothing, Parachutes, Equipment and Supplies) catalog of September 30, 1943 lists them as Limited Standard, meaning they were no longer being made but would be issued until stocks were depleted. The Part Number indicates they were designed and approved in July of 1942.
References
Edit
Community content is available under
CC-BY-SA
unless otherwise noted.